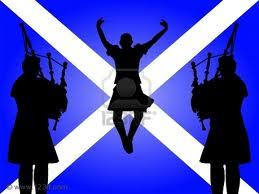 Fling, Sword, Lilt, Flora Macdonld's Fancy, Seann Truibhas, Sailer's Hornpipe, Wilt Thou Barracks Jonnie, Blue Bonnets and Scotch Measure are just a few of the dances you could learn when practising your Highland Dancing.
Here is the 4-Step Highland Fling danced by my little cartoon friend:
Shedding
Toe and Heels
Cross-over
Last Shedding
Here are a few website that are GREAT for purchasing all the esentials needed for Highland Dancing (i.e. shoes, kilt, jacket, sailor cap, etc.)
http://www.margshighlanddancewear.com/product.htm
http://www.tartantown.com/dancedir.htm
http://www.creativedesigns2100.com/
and you can find many more just by typing "highland dance wear" or "highland dance outfits" into your search engine!